You might not automatically think that a packed football stadium would be the ideal place to watch birds, but those of us with a passion for both the beautiful game and our avian overlords might beg to differ. During my own 21 year stretch as a season ticket holder at St James' Park, the home of Newcastle United, I've had a few unlikely sightings, including a grey wagtail sine-waving around the lower stands and a bamboozled woodcock that ditched onto the turf during an evening Premier League match against Reading in 2006. The crowd reacted to the grounded bird and booed to stop play, and the exhausted mud-poker was gently rescued by our striker, the back-flipping cult hero Obafemi Martins, who scored his first league goal for the club that night shortly afterwards.
I wondered if anyone else watched the skies during dull matches, so posted a tweet about it. And birding Twitter did not let me down! The replies (well worth a scroll through if you are interested enough to click on this article!) included a Redshank over Ayr United's Somerset Park, a Bittern over Ayresome Park, a Lapwing at the Emirates, a Black Redstart in Wembley Stadium and Chris Packham has seen a Grey Partridge in The Dell!
Raptors seem to have a particular affinity for football grounds. Birding actor Sam West was cheered up by a Kestrel during a drab West Ham vs Fulham stalemate (he saw another at Plough Lane last weekend) and a Little Owl has been spotted by a few supporters taking moths around the floodlights at the Etihad in Manchester during evening matches. Unsurprisingly Peregrines featured quite heavily in the responses, with football fans spotting them during matches at various stadiums, including BHA's stadium The Amex and there are reports of nesting birds at Crewe Alexandra FC and MK Dons. Showering cups of Bovril on the terraces with plucked pigeon feathers doesn't seem to be an unusual occurrence. Watford's Vicarage Road stadium seems to practically double up as a bird hide on match days with sightings of not just Peregrines, but regular Red Kites , and, on one occasion, 25 Waxwing providing the half-time entertainment.  Red Kites have been spotted over many southern grounds, but numbers of 20-30 over the home of Wycombe Wanderers will take some beating.
Norwich City might be nicknamed the Canaries, but nobody told that to the unimpressed Greylag Goose at a Carabao Cup match against Swindon at Carrow Road in 2017. It circled the pitch twice before leaving in a very dignified manner through an appropriate exit! (footage here).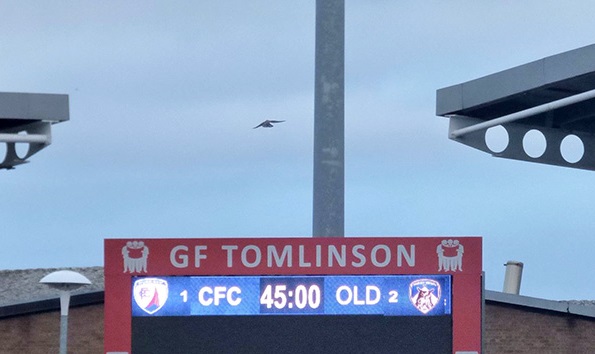 Just like football though, sometimes, just sometimes, you might be lucky enough to witness something truly magical.
The Crag Martin that hung around outside Chesterfield FCs stadium in November 2017 was only the 10th record for the UK, but had anyone actually seen this mega rarity from inside the stadium on a match day? Well, it turns out that somebody did! Take a bow, Jack Baddam's brother, who texted Jack during a match to ask if seeing a Swallow in November was unusual. Well, yes it is, but a Crag Martin at that time less so!
Fans at a packed Olympic Stadium in Helsinki in June 2007 witnessed an event not only unlikely to be repeated, but one that spawned a new team nickname. The match between Finland and Belgium was a qualifier for the UEFA Euro 2008 tournament, but went down in history due to an unexpected and unimpressed pitch invader in the form of one of Helsinki's urban Eagle Owls.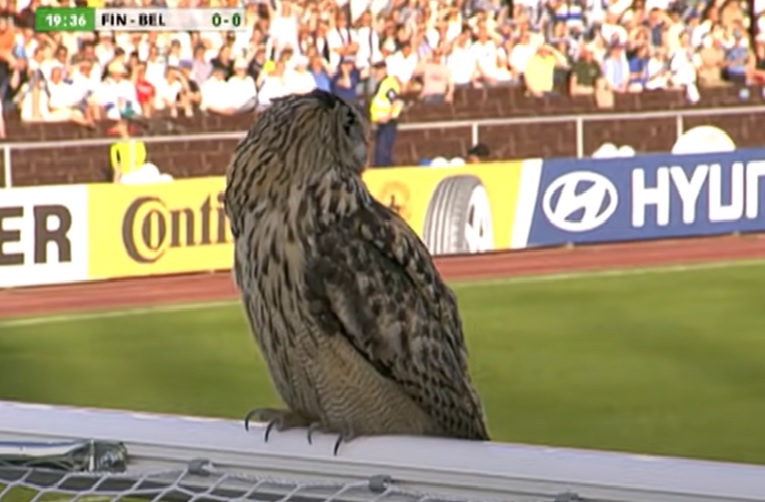 The bird landed on the pitch before flying and perching on both crossbars, inspiring the Finish players to a 2-0 victory. As a result of the bubo-inspired victory, the Finland national team nickname is now The Huuhkajat (The Eagle Owls).
One man however has taken his love of football and birds to a whole new level. Neil Glenn has been visiting both league (all 92!) and non-league grounds for many years now and has visited 1,450 grounds to date,  documenting his trips and sightings on his blog, Twitch and Pitch. His list of birds seen during matches is utterly mind-blowing. He's seen a Short-Eared Owl and Pied Flycatcher while watching a match on Scilly (home to the smallest official league in the world) and added Greenshank to his list during a match at the same ground this year. He's seen a Dipper at Ivybridge Town in the South West Penninsula League and even has heard-only match records of Kingfisher and Stone Curlew. He's seen Hobby, Osprey, Merlin and Common Crossbill,  but somehow is yet to add Woodcock to his outrageous list, a species I unbelievably have over him (I suspect it's only a matter of time though)! One bird he is unlikely to grip-back though, is the Crag Martin; he was leading a group in Texas when the Chesterfield bird showed up!
So next time you're sitting on a Saturday afternoon watching your team lose an FA Cup third round tie against a team 2 divisions below, keep glancing at the skies. It might just make it all worthwhile.